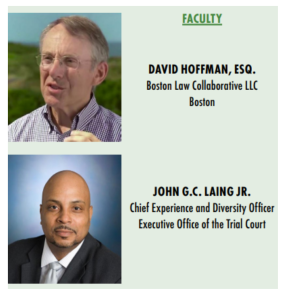 On the train, with our neighbors, even with our own families and spouses – conflict is a part of everyday life. We can't avoid conflict, but we can control how we resolve it. Unfortunately, bias can negatively affect our communication with others, creating a real obstacle in resolving conflict. Even more troubling, bias at times can be unconscious, meaning we may have biases we are not aware of.  Next week's virtual event, Beyond Intent: Understanding the Impact of Unconscious Bias will explore unconscious bias and present tools to counteract bias which, in turn, will facilitate more effective communication.  
This conversation will be joined by panel members, David Hoffman, Esq., from Boston Law Collaborative LLC and John G.C. Laing Jr, Chief Experience and Diversity Officer from the Executive Office of the Massachusetts Trial Court. 
This Zoom webinar will be held next Tuesday, 10/18 from 1-4:30 pm [Hurry! Registration is required by 9:30 am on Monday, 10/17!] 
Participants are encouraged to take the Implicit Association Test before the webinar at https://implicit.harvard.edu/implicit.  The test is free and anonymous.
This FREE event is open to lawyers, neutrals and other DR professionals, members of the MBA, law students, as well as others interested in attending.