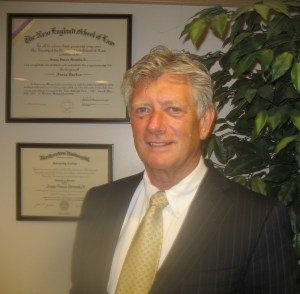 Joseph F. Strumski, Jr is a partner in the Law Firm of Strumski & Woods, LLC, where he specializes in Civil Litigation, Personal Injury, Malpractice, Insurance Defense Litigation and Construction Law.
Mr. Strumski is a former claims manager of the Commercial Union Insurance Company where he was employed from 1972 to 1987. He joined the law firm of Morrison, Mahoney and Miller in 1987 and was a partner and resident manager of the firm's Cape Cod Office. He also served as a member of the firm's management and executive committees.
Mr. Strumski has tried numerous cases in the Federal and State Courts as well as the Division of Industrial Accidents and has represented clients before private, governmental and quasi-governmental boards and panels. He is also a Court-Appointed Conciliator in the Superior and District Courts of Barnstable County, and has been qualified and testified as an expert in Chapter 93A/ 176D claims.
Additionally, he has served as a panelist in the Massachusetts Bar Association and Massachusetts Academy of Trial Attorneys seminars, is the author of several articles dealing with insurance issues, and is a member of the Massachusetts Defense Lawyers Association as well as the Massachusetts Bar Association and the Barnstable County Bar Association, and has been qualified as an expert in the Superior Court to give testimony regarding Unfair Methods of Competition and Unfair and Deceptive Acts and Practices in the Business of Insurance (Massachusetts General Law Chapter 176D). Mr. Strumski is admitted to practice law in the Commonwealth of Massachusetts and the United States District Court for the District of Massachusetts. He holds a B.S. degree as an honor graduate of Northeastern University in 1978 and obtained his J.D. from the New England School of Law in 1987.